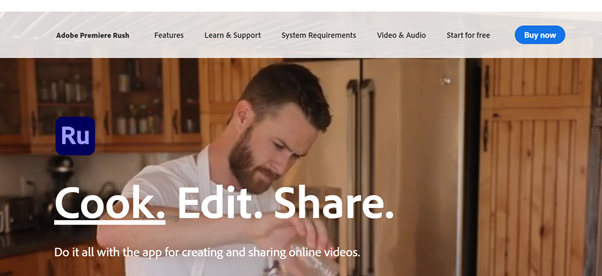 Smartphones today are capable of shooting high-quality videos, but the video editing features are not as good. When you have to quickly edit the video with perfect cutting, and fragmenting, you cannot rely on your mobile device and have to open your laptop.
To edit to make splendid videos with improved quality, there are many incredible video editor apps you can try. After all, it is better to edit the videos on your phone using the app instead of exporting them to your PC and then importing them back to your phone once you are done editing.
There are plenty of free apps available in your Play Store, to enhance your video-editing experience and make you edit like a pro. If you have no idea which video editor apps to experiment with for editing videos, here is the list of the 7 best video editing apps to download on your Android smartphone.
List 0f 7 Best Android Video Editor Apps
FilmoraGo

FilmoraGo is a brilliant video editor app to help you edit the videos or other media files made on your phone. It has all the features that one could find in their PC for video editing. This is a popular and preferred app by users around the world and it offers features such as cutting the video, adding themes, background music, voiceovers, merging, rotating, slow motion, etc. The app is easy to use and you can make the video for your Instagram, or YouTube as there are a lot of options for styling your videos with different aspect ratios and transitions. There are also interesting special effects, animated text, title, etc. FilmoraGo has an intuitive interface that makes the task of video editing and sharing extremely easy.
Adobe Premiere Rush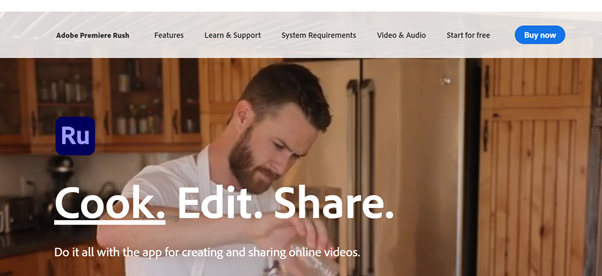 Another free and easy-to-use app that delivers quick results and lets you edit your video on your Android phone. It is a fun app and there is no watermark in the video. This app is perfect for online video makers as it has all the features that you require to create a video for different social media platforms. You can make use of its editing features to add effects, alter color, zoom effects, animated titles, and a lot more. It also allows you to share the video created using this app on a variety of social media apps. Adobe Premiere Rush provides the best audio tools for auto-ducking, background music managing, sound-balancing, etc. It is a complete video editing app serving the purpose of video-making for multiple social media sites.
VivaVideo

VivaVideo is one of the best video and movie editing apps having a broad range of features. The app can be easily operated and fun to use. It offers features such as trimming clips, editing clips, merging video clips, using filters, adding text or titles, and stickers, apply fast or slow-motion effects to your video. You can make both a professional-looking and fun-looking video employing the various features given in the VivaVideo app. However, the free video-editing option of this app comes with a limited-time video and a watermark. For extending video-limit, the in-app purchases start from a very low amount such as $1.29.
InShot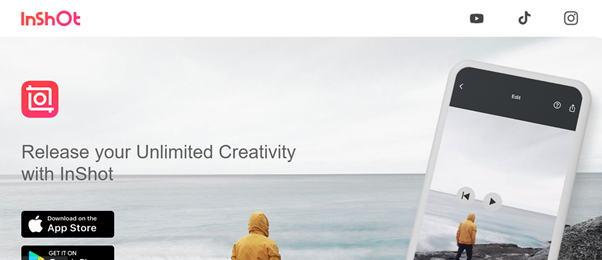 InShot is a great option for people who don't want watermarks in their videos. InShot does not display ads to disturb your video editing work and has an intuitive interface to make the experience easier for you. The app provides all the features that are supposed to be there in a video editing app such as creating slideshows, adding texts, emoticons, trimming, cropping, splitting, merging, changing color, special effects, and more. However, for removing the watermark, you have to bear with the ads. The app provides multiple capture options and you can easily share videos on social media platforms such as Facebook, YouTube, Instagram, Live Story, etc.
VideoShow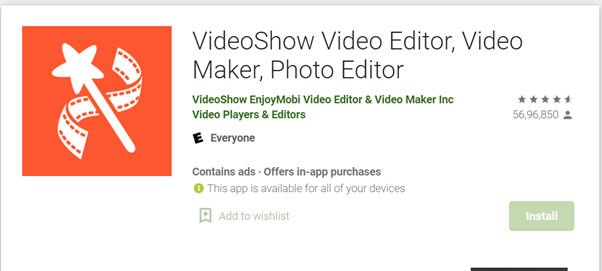 VideoShow is a well-recognized and amongst the best video editing app on the Google Play Store. It has a clear interface, and the app is user-friendly and reliable. It has all the standard features of a video editing app and you also get added features to enhance your video-making experiences such as adding texts, visual effects, sound effects, and music, and you can also dub your videos. The app offers multiple themes, no video time limits, and high-quality videos. VideoShow functions perfectly fine on every Android device and there is an option to reduce the video size. You can also adjust video speed, blur background, and multiple soundtracks, all for free.
AndroVid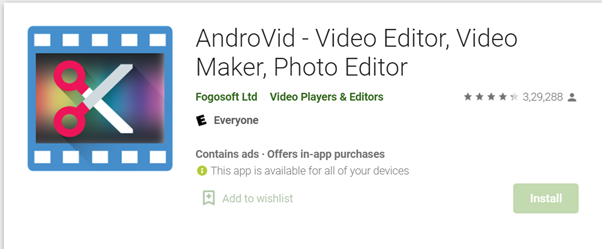 AndroVid is a user-oriented video editing app with multiple features such as cutting, trimming, and adding music to the video quickly. You can cut or remove the video parts at a fast pace as the app functions quite smoothly. You can also add text, titles, effects, and frames to your videos. You can even prioritize the frames in a manner you like your viewers to see them. There are features such as slow or fast motion, video swapping, fading parts of the video, and all that you need to make an interesting video to showcase your uniqueness. There is also an option in this free video editing app to convert the videos to mp3.
KineMaster

KineMaster's free video editing app is creatively designed with an intuitive interface to give its users a seamless video editing experience. This app is easy to use as you get to control the video editing in order to make videos that conform to your whims. There is also a feature to put transitions in between the different video fragments. You can easily import and export various media files in this app. The app offers complete volume control for different parts of your video. But if you want the watermark removed, you have to purchase the professional version of this app.
Final Words
There are a lot of free video editing apps available on the Play Store to assist your video-making task. You can easily get the standard features for free that would suffice your video-editing needs for different social media platforms. However, to experience their advanced features, you have to make in-app purchases at very nominal charges.