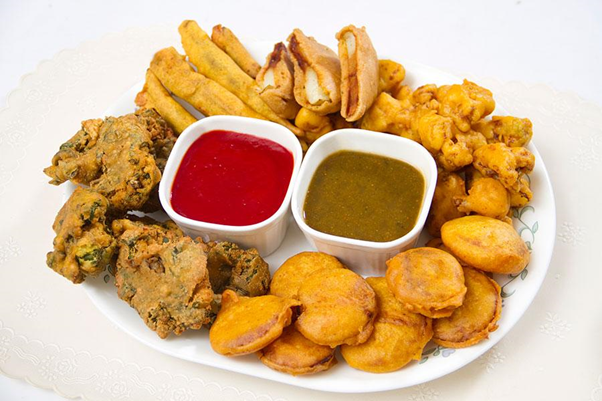 When we talk about fast food in India, the varieties and options are unlimited. You can find a lot of fast food options whether it's the hawkers selling in the streets or the restaurants in the area. Indian food is famous around the world for its mouth-watering taste and appetizing ability. You don't have to worry about feeling hungry for several hours once you have a full plate of any variety of spicy food items.
If you are a greedy eater, and wondering what could be the best fast food in India to have. Then, here is the list of the best fast food that everyone loves.
1:- Manchurian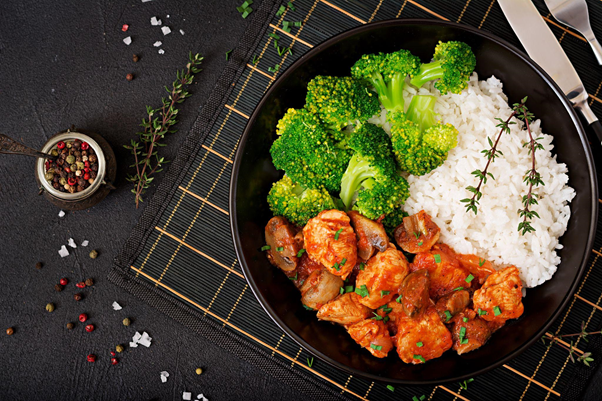 Fried vegan balls submerged in tangy sauce, this Indio Chinese fast food item is everything you need to satisfy your taste buds. This yummy and savory dish is perfect when you are wanting to have something spicy, full of taste, and that keeps your stomach full. Manchurian is made using cauliflower, soya sauce, chilli sauce, cornflour, ginger, garlic, etc. For making it, cauliflower is grated and is then mixed into the batter of cornflour. This mixture is then fried, and the fried veggie balls are sauteed with garlic, onion, soya sauce, tomato sauce, green chilli sauce, and other sauce depending on the taste preferences of the chef. These soft and juicy cauliflower balls have their separate fan base as you can see many food bloggers in India praising this tasty dish.
2:- Chole Bhature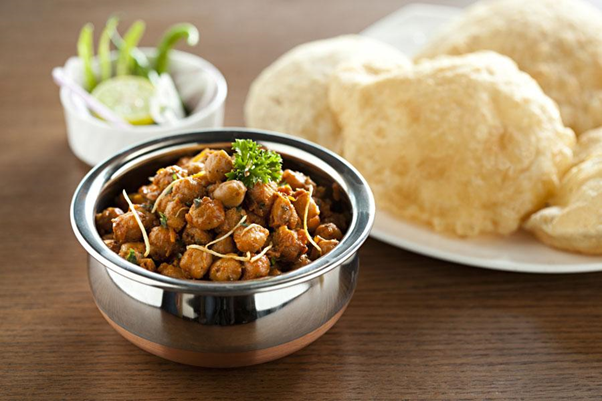 Chole Bhature is a traditional fast food item in India that people are crazy about. Originated in Punjab, this culinary item is the easiest to find with shops full of a customer enjoying their full plate of Chole Bhature after a hectic workday. In Delhi, every locality is supposed to have one shop that is famous for selling tasty Chole Bhature. This conventional fast food is quite easy to make and one can easily prepare it at home as well. Chole is simple to make since you just have to boil the chickpeas and then fry them using the typical Indian-style tadka. And for bhaturas, one has to make a dough of white flour and then take a small piece from it expand it to the size of bread, and at last, it has to be deep-fried. Although easy to make, this one fast food is delicious and is always in mind when someone is hungrily craving to eat something tasty.
3:- Masala Fries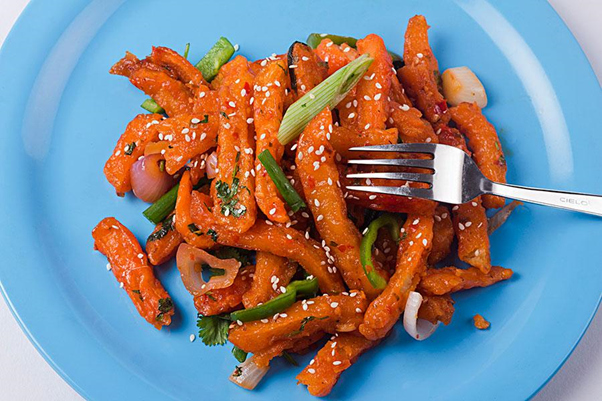 French Fries are potato fries that are fried on a low flame till they reach their crispiest best. Although this fast food does not belong to India, this food item, especially Masala French Fries are totally loved by everyone. Since Indians are all about masala, the Masala French Fries category of French Fries was discovered by us, and anyone would love this spicy form of French Fries. This fast food item is the ultimate snack when you are having small food cravings for something light. These long potato pieces are deep-fried, and a pinch of salt and other spices are added to give it the masala flavor. Masala Fries are tasted and served well with tomato ketchup.
4:- Patty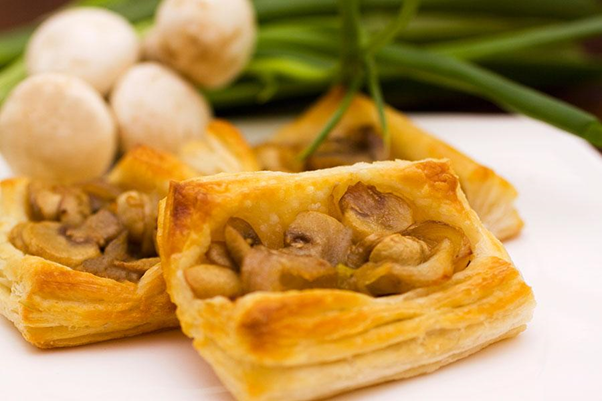 Another fast food veggie item to keep your appetite satisfied for longer hours. This is the most common fast food item sold in the canteen of schools or colleges in India. This flat crispy fast food in India is made from wheat flour (maida) and is stuffed with paneer, veggies, potatoes, or eggs since it comes in various types. One piece of patty does not cost much, and it is the best go-to snack when you are too hungry or can't wait to eat something. This food item is readily available in almost any food shop you come across when in Delhi, India, and other parts of the country as well. Grab a piece of patty and enjoy it with tomato sauce, and calm your hunger.
5:- Pakoda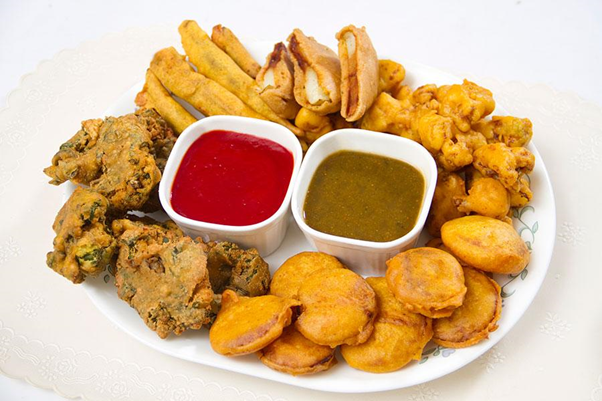 Pakoda is a famous Indian snack that is famous in all regions of India. They are the quickest to prepare and are sure to make you feel full for a long time. This fast food item is prepared with black gram flour (besan) and different veggies are used for the stuffing. A batter of gram flour is made in which salt, red chili powder, and other basic spices are added. Then, many veggies are cut into small pieces such as potatoes, onions, cauliflower, cottage cheese (paneer), spinach, etc. These small pieces of veggies are covered with the batter and are given a round shape. The veggie balls covered with the batter are then deep-fried till they appear finely cooked. At last, they are taken out and served with tomato and green chilli sauce.
6:- Pav Bhaji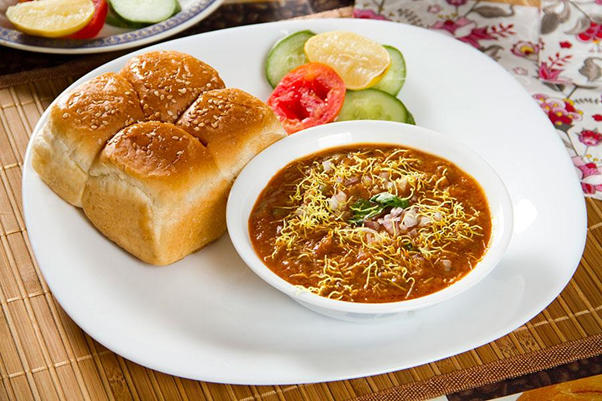 Pav Bhaji is the ideal breakfast, and a fast food in India thoroughly enjoyed in the rains or winter season. This famous Indian fast food item called Pav Bhaji, as the name suggested is a combination of two items called Pav and Bhaji. In which, Pav is the soft round bun that is roasted in butter and Bhaji is the spicy thick gravy dish made using several vegetables. This basic Indian fast food is considered the best street food and you are going to love it even if you are not a fan of veggies.
7:- Rolls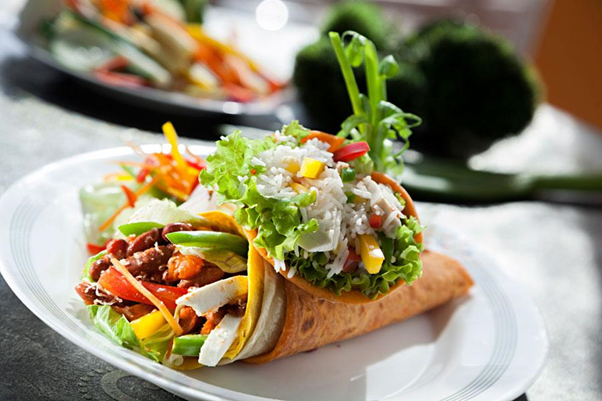 Rolls are thin wraps made of wheat flour that is stuffed with different fillings, turned into a roll, and then is slightly roasted until cooked. There is a variety of fillings for the rolls such as veggies, soya beans, chicken, noodles, omellete, and more depending on the shop from which you are buying it. You can even get the stuffing customized according to the type of veggies or things you want or don't want in your roll. This fast food is another quick option to settle down the unexpected food cravings.
Fast food in India is delicious, and even foreigners visiting the city cannot have enough of it once they have experienced the delectable taste of flavor-rich foods in India. Make sure to you have tried or try all of the foods listed herein in case you consider yourself a foodie.