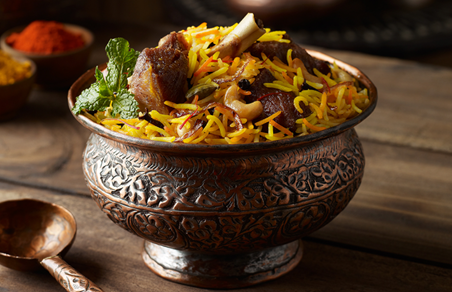 Finding a wide variety of tastiest non-veg items is one of the best parts of food in India. There are many mouth-watering and incredibly non-vegetarian dishes that can be enjoyed in different cities of India. Most places in India have at least one specialty non-veg item that the city is famous for and have so many customers coming in just to taste the delicious food. Also, the methods of preparing non-veg food in India are very different and one can relish non-veg foods at a reasonable price as well.
Below are the best non-vegetarian dishes of India that are famous not only in India but throughout the world.
1: Hyderabadi Biryani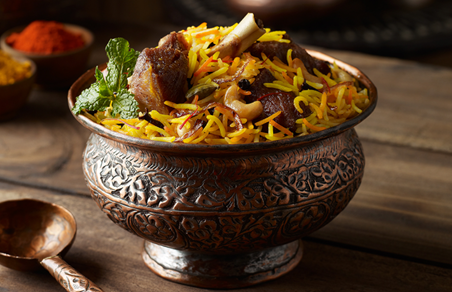 Hyderabadi Biryani is a famous non-veg dish in and around India. It is royal food and a dish popular in the times of Mughals, and its popularity has only grown due to its lip-smacking taste. The dish was discovered by the Nizam of Hyderabad, so Hyderabadi Biryani's recipe is a blend of Mughlai and Hyderabadi cuisines. This type of Biryani has a lot of varieties and tastes. Each year, many people visit India to taste this amazing Biryani in the city of Hyderabad, India. It is one of the spiciest and tastiest Biryani of all time and everyone should taste to experience the best of Biryani in India. This dish is also known as Hyderabadi Dum Biryani, and the dish comprises Basmati rice and goat meat. Hyderabadi Biryani has a distinctive taste, pleasant aroma, tender meat, onions, and other things that instil in the Biryani a variety of sweet and spicy tastes.
2: Tunday Kebab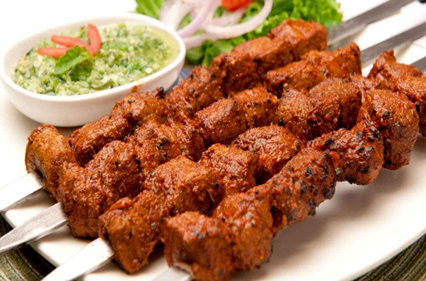 It is a popular dish of Lucknow, India, and was made and discovered almost a hundred years ago by a chef in the small shop Tunday Kebab are the kebabs named after the physical trait of the chef whose original name was Haji Murad Ali, and his nickname was Tunde since he only had one working arm with which he invented this recipe. Lucknow is a famous state in India best known for the many non-veg delights it has to offer people visiting the city. Tunday Kebab will just melt in your mouth and make you forget everything. This kebab can be easily found in almost all kebab shops in Lucknow and these are certainly the best kebabs and non-veg food in India you would ever eat. Tunday Kebab is made of minced meat and a lot of spices to give it the rich taste it is famous for.
3: Chicken Kolhapuri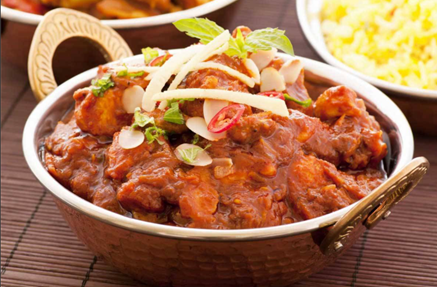 Chicken Kolhapuri is the yummiest and spicy chicken you would ever have. The uniqueness in the taste of this chicken is attributed to the Kolhapuri masala that is made from fresh ground spices. Chicken Kolhapuri is the famous non-veg dish from the Kolhapuri cuisine that will certainly appeal to your palate and taste buds. You can easily find this chicken in Maharashtra, India. This dish is comprised of chicken drumsticks and a wide range of spices and pastes used to give it the typical rich and spicy Kolhapuri flavor. This chicken is best served with koshambir, bhakri bread, or plain rice. Give Chicken Kolhapuri list a try and it will undoubtedly become one of the best non-veg dishes.
4: Kerala Karimeen Fry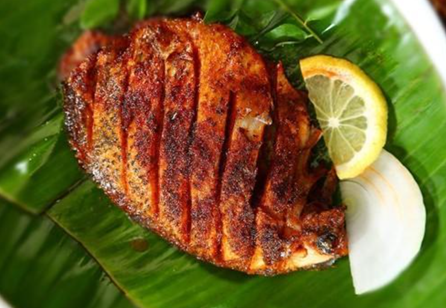 Kerala Karimeen Fry is the famous non-veg food in India made in Kerala style and originated in the state of Kerala itself. It is prepared with Karimeen, pearl spotted fish along with a lot of spices and pastes. The fish is marinated with a mixture prepared with turmeric powder, black pepper powder, red chilly powder, lemon juice, ginger-garlic paste, and water to make a thick paste, and the fish is left for half an hour. Then, it is fried in coconut oil on low heat from either side until it is finely cooked or attained a deep red colour. It is a favourite dish for seafood lovers. This famous non-veg dish can be easily found in the toddy shops of the state.
5: Aila Curry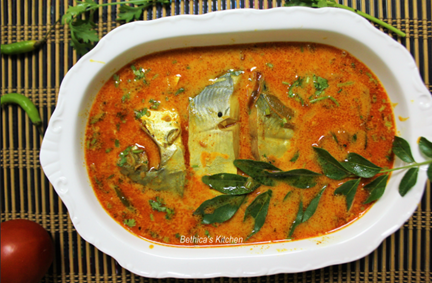 Aila curry is a Kerala special fish curry dish made with Mackerel Fish. This tasty non-veg dish of Kerala is prepared by slowly cooking the fish along with the spices on a clay pot with the purpose of having the fish absorb all the flavours. Also, it is a healthy non-veg dish since Mackerel is a healthy fish, rich in vitamin E and omega-3 fatty acids. Kudam pulli or Gamboge is also used in the making of the dish and Gamboge is soaked in water. For preparing the dish, green chilli, curry leaves, ginger, garlic, are added to the hot oil and are fried well. Then, various spices are added and cooked. Soaked Gamboge is added along with the water and the dish is then boiled. In the end, fish pieces are added and cooked for 15-20 minutes. Aila curry is the perfect combination of spice and sourness.
6: Payyoli Chicken Fry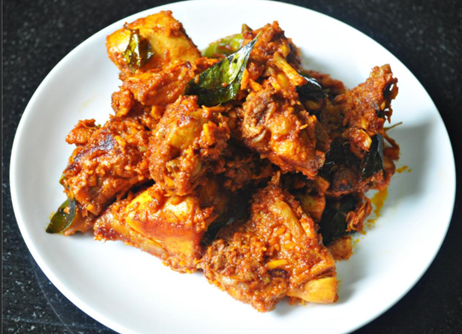 Another famous non-veg food in India dish from the North Malabar coast of Kerala- Payyoli chicken fry is a famous dish in restaurants in Kerala. This dark crispy chicken fry is extremely delicious and simple to cook. This dry chicken fry non-veg dish has the best Malabar flavors. For making this dish, chicken is marinated with a lot of spices and red chilli paste and then is deep-fried in coconut oil.
7: Squid Curry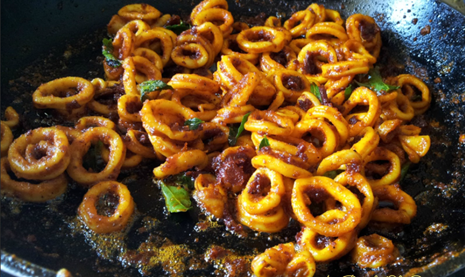 Kerala has so many great non-veg dishes to offer, and Squid Curry is one of them. Squid curry is the perfect non-veg item for people who prefer their meat in gravy. The only difference when it comes to preparing this dish is that the squid is marinated and then is cooked along with coconut milk and vegetables instead of deep-frying like other non-veg dishes. It emits an excellent aroma as good as its taste.
Besides the above, there is a variety of non-veg food in India to try such as butter chicken, fish curry, Goan masala prawns, or laal maas. There is no limit to the variety and taste you can experience and get the best of non-veg in India. There are also many international cuisines of non-vegetarian food for the food fanatics. With so many delectable dishes, one does not want to lose the opportunity to taste the best non-veg dishes in India.